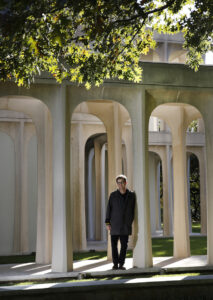 Mark Lamster is the architecture critic of the Dallas Morning News, a professor in the architecture school at the University of Texas at Arlington, and a Loeb Fellow at the Harvard Graduate School of Design. His acclaimed biography of the late architect Philip Johnson, The Man in the Glass House (Little Brown), was a finalist for the 2018 National Book Critics Circle Award for Biography.
Lamster has been recognized by the Associated Press and the Society for Features Journalism for his writing, celebrated for his "beautiful mind" by D Magazine, which has named him the best critic in Dallas three times, and lauded for his "sharp analytical eye" by the alt weekly Dallas Observer. He was the recipient of the David Dunnigan Media Award from the Greater Dallas Planning Council in 2014 and the Robert Decherd Award for Civic Journalism, the paper's highest honor, from the Dallas Morning News in 2015. In 2019, he received the Flowers Medal from the Texas Society of Architects.
Lamster has been a contributing editor to Architectural Review, Design Observer, and ID and writes often for Architect, Architectural Record, and Metropolis, among other design titles. His work has appeared frequently in national publications and magazines, including the New York Times, the Los Angeles Times, and the Wall Street Journal. Recent articles can be found here.
He is the author of several books, a contributor to many others, and for more than a decade served as a senior editor at the publishing house Princeton Architectural Press, where he developed a series of influential titles on architecture and graphic design. Before joining the press, he served as an editor with George Braziller, the distinguished independent publisher of literature and illustrated books.
The research materials for his book Spalding's World Tour have been acquired by the National Baseball Hall of Fame, and are accesible to the public there as the Mark Lamster Papers.
Lamster is a native of New York City and now lives with his family in Dallas. He holds degrees from Johns Hopkins (BA), and Tufts (MA).